Posted by WKF head office on September 26th, 2017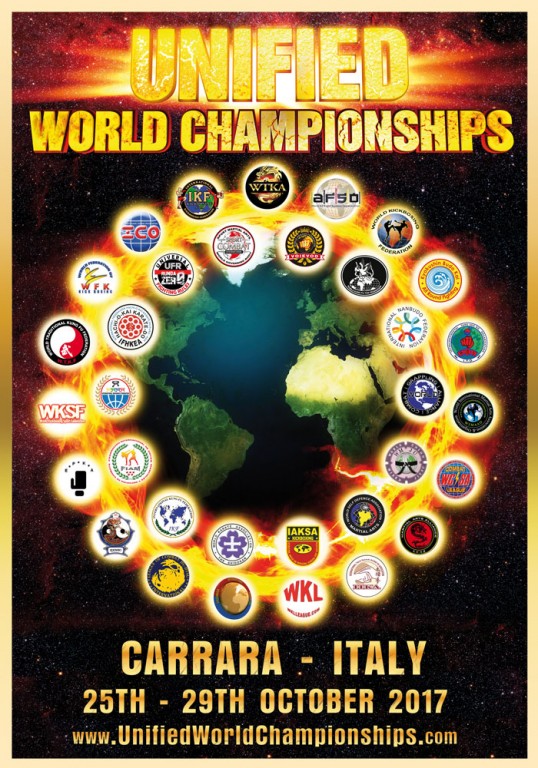 FULL INVITATION ONLINE !
WKF head office  sanction the amazing "Unified World Championships" first time as our
WKF World Cup
Our WKF General Manager Mr. Cristiano RADICCHI report:
This is unquestionably the greatest, unique and legendary event in all the history of Martial Arts and Combat Sports!!!
This is the fifth edition, the first edition in 2013 has involved 6 world federations, now we have reached over 28!!! Something unbelievable…
When we decided to organize an Unified World Championships, immediately the initiative has been a success, meaning that it was meeting the needs of many Federations, seeking an opportunity for their members to give their best in a World Championships that represents the highest levels in the martial arts sector.
Now, after the amazing experience of last year and the incredible success, we stepped up even more this aspect, inviting to participate many other World Federations and.
We are interested in unifying all the Federations in the World to give the opportunity for everyone to participate in this unbelievable event where participating thousands of athletes of any kinds and country.
To win it means to have reached the highest competitive level but, at the same time, only participating means emotions, friendship, respect, loyalty, passion, with a spirit of joy that sets us apart from any other event.
Over 28 World Federations, with 5.000 athletes and over 100 countries participate together in such an event and combine their forces to create the most incredible Championships that has ever been organized in the World throughout the history of Martial Arts because only together we can give our affiliates the prestige of such an amazing event.
The prestige of competing to be the Real Unified World Champion, recognized by over 28 International Federations. For more information send your mail !

Unified World Championships
the Greatest Martial Event in the World